The differentiated Investment Advisory service provided by Banco Finantia
Banco Finantia's experienced team of Private Banking consultants specializes in providing personalized advisory services on financial instruments. This is adjusted to the specificity of the risk profile of each investor, based on their knowledge, experience, financial capacity and return objectives, for a given time horizon, without prejudice to the investment decisions being always yours, and not being linked to advice provided in any way.
Risk Profiles
To simplify your choice and optimize the management of your investments, we currently have three model portfolio profiles:
Based on a careful analysis of the personal circumstances and socioeconomic context of each client, Banco Finantia prepares a fully personalized recommendation, developing investment proposals in securities investment funds or bonds and shares.
In addition to technical knowledge, managing your investments requires experience.
Why choose this consultancy service?
Service performed by experienced, accredited, available and dedicated professionals
The experience of personalized service allows you to maintain long-term relationships and commitments
Solutions tailored to each investor
Capitalization of Banco Finantia's extensive network of international contacts in the largest world markets
Suitability of a Bank that puts the interests of its clients first and does not sell its own financial products
Proposals for diversified portfolios in order to reduce risk
Monitoring of portfolio by your Private Banker in order to safeguard market dynamics
Respect for the best market practices
Clear and transparent information
Other services
Reception of Orders reception and execution of transaction orders for domestic and foreign securities upon the client's instructions. This service does not give you access to professional support, it is based only on your decision and order

Custody of Securities registration and safekeeping of financial assets
Investment Products
Investment Funds financial instruments that result from the raising of capital from several investors, the set of amounts being an autonomous asset, and managed by specialists who apply it to a variety of assets

Bonds financial instruments that represent a loan taken out from investors by the issuing entity which can be either public or private companies, or States. When acquiring a bond, the investor becomes a creditor of that entity

Equity securities that represent a fraction of the capital of a company, formed as a limited company. The holder of these securities is the shareholder and the issuing company is the issuer
For additional information we suggest that you consult one of our Private Bankers who can help you to identify the financial solution best suited to your profile and investment strategy.
For more information, please see here the Policy on Integration of Sustainability Risks in Customer Financial Services.
Contact us by email, go to an agency in Lisbon or Porto, or use the following phone number, available on weekdays from 9:00 am to 6:30 pm.
Warning
Investing in bonds, investment funds or equity may imply, among others, market risks arising from variable income, interest and exchange rates, investments in emerging countries, geographic or sector concentration, liquidity, as well as capital loss risks and implies the support of costs and commissions to be designated. For more information, it is suggested to consult the document "Complementary Customer Information".
Banco Finantia's registration number at the CMVM - Portuguese Securities Market Commission: 109
Frequent Asked Questions
What does Banco Finantia's Investment Consulting service consist of?
It is a personalised advisory service, provided to potential or effective customers, in the context of carrying out transactions related to specific financial instruments. It can be directly requested by the customer or proposed at the initiative of the customer's Private Banker, as an instrument to support investment decision making, with the final decision always being the customer's.
Why a consulting service and not just a marketing service?
Because the marketing (order-taking service) of financial instruments does not involve any value judgment. On the contrary, it only requires that information be provided on the characteristics of the instruments, receiving the instructions from the customer without issuing value judgments. We recommend the use of the order-taking service only for our more experienced customers.
On the other hand, Investment Consulting consists of the issuance of investment recommendations by a Private Banker, ensuring that these are personalised, individual, and adjusted to the personal circumstances of each customer. In addition, these are reinforced by the vast experience of the Banco Finantia professionals and grounded on analytical resources and constant market monitoring.
What services does Banco Finantia's Private Banking make available?
In addition to Investment Consulting, Banco Finantia's Private Bankers may also:
Receive and execute securities transaction orders based solely on the customer's instruction, without the need for specialised advice
Act as custodians of financial assets
Inform about solutions of term savings in EUR and USD
For additional information regarding this service, consult the Private Banking - What we do page.
Why is it called "Non-Independent Consulting?
Legislation establishes that the Independent Investment Consulting service can only be considered as such if three conditions are met:
There is a capacity to value a sufficiently diverse range of financial instruments available on the market
There is an advisory service for financial instruments issued and marketed by the financial intermediary and third parties; and
The non-acceptance or receipt of any remuneration, commission, or benefit, paid or granted by a third party, except for non-pecuniary benefits of an insignificant amount.
Non-independent consulting such as that provided by Banco Finantia is legitimised by adding value to the service provided, translated into benefits for the customer, both in terms of the quality of the accompaniment, as well as at the level of full access to the support and analysis resources provided by the Bank.
How are the interests of customers/investors guaranteed?
The Markets in Financial Instruments (MiFID II) Directive introduced a set of measures to reinforce the pursuit of the customer's interest above any circumstance, increasing the transparency and quality of the service and mitigating situations of conflict of interests. It establishes rules on how financial institutions relate to their Customers and, naturally, how they market their investment products and services. Of these, we highlight, for example:
Reinforcement of information duties to Customers
Reinforcement of rules on matters of conflict of interests
More detailed criteria in order execution
New transparency rules for the market
Greater focus on the code of conduct and on the appropriate professional skills of employees (knowledge and experience)
Before making any investment recommendation, your Private Banker will carefully evaluate which investment products and services to offer, considering an analysis of your knowledge and experience, but also of your financial situation, investment objectives, needs and tolerance to risk.
What are the inherent risks that should be considered?
Any investment in financial instruments involves risks that the customer must consider:
The value of the capital invested may be subject to fluctuations that make it impossible for the investor to recover the amount initially invested, depending on the valuation of the financial assets that make up the customer's patrimony.
Past returns are not synonymous with future returns and, for example, the foreign exchange risk reflected in the fluctuation of exchange rates between currencies can be negatively reflected when the value of the initial investment is recovered.
Each financial instrument carries specific risks.
Nevertheless, Banco Finantia does not market its own products.
What are the advantages of the Investment Consulting service provided by Banco Finantia?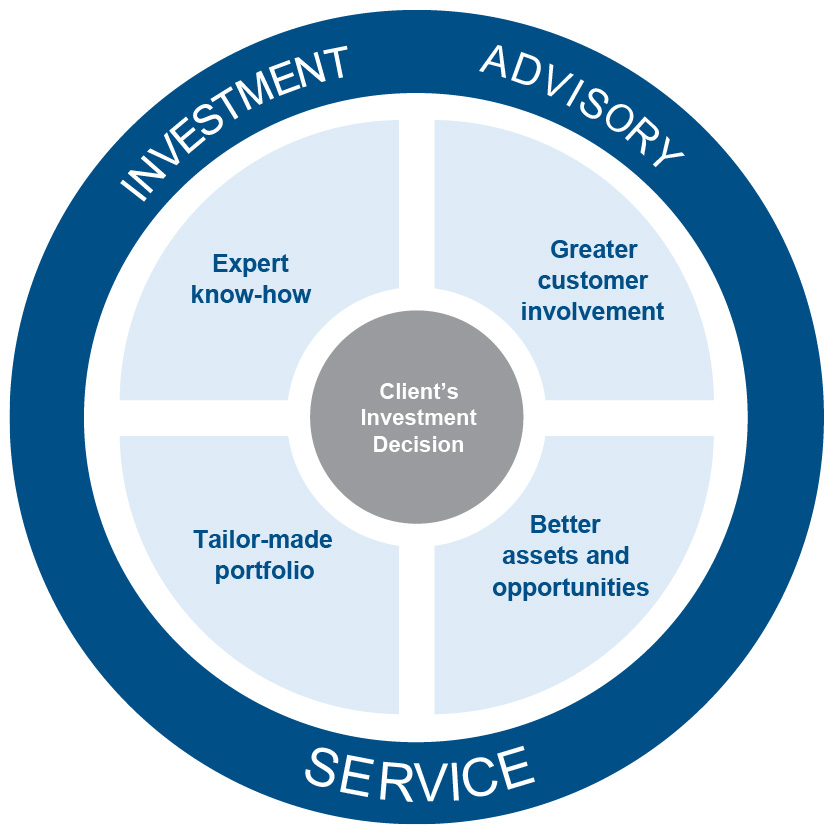 Reputability: it does not market its own financial products, having at its disposal a wide range of assets that it can recommend.
Experience: it has extensive experience in dynamic and constantly changing environments, having as its main cornerstone the preservation of the customer's patrimony.
Value proposal: it provides an additional service according to the desired level, whether in the acquisition and sale of selected securities investment funds or of bonds and shares.
Personalisation: it develops tailored solutions, considering risk tolerance and the specificity of each investor risk profile, based on their knowledge, experience and financial capacity. It outlines fully personalised and appropriate investment strategies, considering the investor's personal circumstances, socio-economic context and, of course, the intended investment objectives.
Specialisation: Banco Finantia's Private Banking consultants have the necessary knowledge and experience under the terms required by the Comissão do Mercado de Valores Mobiliários (CMVM) (Portuguese Securities Market Commission).
Accompaniment: investors will be accompanied by a specialised Private Banker, at their disposal throughout each step of the process. In addition, Banco Finantia's market specialists will regularly monitor their investment portfolio.
Involvement: it allows greater customer interaction in the management of their patrimony, to guarantee a service that is truly tailored to their expectations.
Flexibility: investors can keep track of their investment portfolio, anywhere and anytime, through the home banking service FinantiaNet.
Extensive knowledge of the bond market: knowledge of the bond market: advantage of know-how in the bond markets for public, financial, and corporate debt, covering a wide range of issuers which risk levels are classified by the main rating companies in the sector as investment grade and high yield.
For additional information consult the "Other Compulsory Information" page or the CMVM website.